Rafting theYellowstone River


The Yellowstone River is a wide and fun whitewater river with rolling wave rapids that vary in size depending on water level. Rafting within the park is not permitted, but there are plenty of waves to catch outside. Containing a plethora of rapids, it is a great river to introduce people to the sport of whitewater rafting. With classic rapids such as Boonie's Revenge, The Sleeping Giant, Queen of the Waters, and Rock Garden. there are plenty of splashes for everyone. And with numerous put-ins all along the river, there are plenty of stretches available for access.
603 SCOTT STREET
GARDINER, MT 59030
PHONE: (406) 848-7398
WEBSITE:
www.montanawhitewwater.com
Offering Half Day, Full Day, and Scenic Raft Trips, as well as Inflatable Kayak trips on the Yellowstone River. Montana whitewater offers multiple activity packages on 3 different rivers including horseback riding, ziplling, fishing and tubing. Best Raft Company in Gardiner! Call with any questions or share an adventure with Montana Whitewater on the river, trails or zipline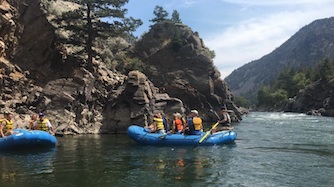 River Source
965 US HWY 89 S.
GARDINER, MT 59030
PHONE: (724) 309-5088
WEBSITE:
www.paddleyellowstone.com
Located further north on the Yellowstone, RIver Source is located just outside of Gardiner enabling unique trip options. River Source specializes in Yankee Jim Canyon river trips and Stand Up Paddle Boards (SUP) rentals.
Yellowstone Raft Company
111 2ND STREET
GARDINER, MT 59030
PHONE: (406) 848-7777
WEBSITE:
www.yellowstoneraft.com
Oldest Raft Company in Gardiner, haivng changed hands a few times this company is still a solid raft company. Not a walk-in friendly company so schedule ahead of time.